Satire from the Washington Post, by Alexandra Petri:
HOW DARE YOU?!
HOW DARE YOU DO THIS TO BRETT KAVANAUGH?
HOW DARE YOU DENY HIM THIS SEAT?!
Listen, NO, YOU listen!
Do you know who Brett Kavanaugh is? Brett Kavanaugh went to Georgetown Prep!
BRETT KAVANAUGH IS AN OPTIMIST WHO LOOKS ON THE SUNSHINE SIDE OF THE MOUNTAIN!
BRETT KAVANAUGH IS NOT YELLING!
YOU'RE YELLING!
If Brett does not secure a lifetime appointment on the Supreme Court, this country will be IN SHAMBLES! THIS IS HIS BIRTHRIGHT! Do you know how embarrassing it is for a Georgetown Prep graduate to NOT be on the Supreme Court? They are literally 12 PERCENT of the court! THIS IS PROBABLY THE WORST INDIGNITY YOU CAN INFLICT ON A HUMAN BEING!
ALL BRETT IS ASKING FOR IS DUE PROCESS! DUE PROCESS BEFORE HE IS DEPRIVED OF HIS GOD-GIVEN RIGHT TO A SEAT ON THE HIGHEST COURT IN THE LAND, WHERE HE WILL DETERMINE THE FATES OF MILLIONS!
Apply the standard you want to apply to your husband-brother-son. He should be allowed to be careless. He should be allowed to like beer.
BRETT LIKES BEER!
WHO DOESN'T LIKE BEER!
BRETT ISN'T YELLING!
YOU'RE YELLING!
THIS IS A CON JOB!
THIS IS A FARCE!
YOU SHOULD BE ASHAMED!
THIS IS BRETT'S SEAT!
The Founders did not break from Britain so a landed white gentleman accused of sexual misconduct could NOT be given FREE REIN over the lives of millions!
If you give this woman credence, you will start a terrible trend. THINK OF ALL THE CARELESS PREP SCHOOL BOYS WHO WILL NOT BE ALLOWED TO SIT ON THE HIGHEST COURT IN THE LAND! WOMEN WHO HAVE SUFFERED TRAUMA WILL BE ALLOWED TO GET ON PLANES WILLY-NILLY — EVEN THOUGH THEY ARE FRIGHTENED!
You are going to deny a qualified man. The treasurer of Keg Club — DO YOU HEAR HIM, HE WAS KEG CLUB TREASURER! AND A RENATE ALUMNIUS! HOW DARE YOU DENY A KEG CLUB TREASURER AND RENATE ALUMNIUS A SUPREME COURT SEAT?!
ARE YOU GOING TO BELIEVE HER, AMERICA? OVER HIM, AMERICA?
YOU HEARD THE WOMAN! SHE DOESN'T EVEN LIKE TO FLY! YET SHE FLEW HERE! SHE DOESN'T REMEMBER ALL THE DETAILS OF THE EVENING, WHEREAS HE KEPT A CALENDAR, LIKE HIS FATHER BEFORE HIM!
HE IS NOT EMOTIONAL!
YOU ARE EMOTIONAL!
NO, YOU LISTEN!
If this is how you are going to behave, if you are going to believe this woman, if you will let her stand there and destroy his life (well, not his life, technically, nor his freedom, just his chance of a seat on the highest court in the land), then what kind of country is this going to be?
They are going to drag him here in front of all these OTHER MEN and deny him a seat on the Supreme Court, and he will have to walk home confused and disoriented, and he will have to live with the feeling that he is NOT ON THE SUPREME COURT for as long as he lives. Whenever he gets on a plane and sits in his seat, he will think of the seat HE IS NOT IN.
This is OPPRESSION! TO BE DENIED POWER OVER OTHERS! IF THAT IS NOT WHAT IT IS, DO NOT TELL ME.
He should be given exactly as much benefit of the doubt as we would not give a black man shot in his own apartment by police. HE DESERVES IT! IT IS HIS BIRTHRIGHT. HE WENT TO GEORGETOWN PREP.
As President Trump said, "This is beyond Supreme Court. This is everything to do with our country. When you are guilty until proven innocent, it's just not supposed to be that way. Always I've heard you're innocent until proven guilty. I've heard this so long. It's such a beautiful phrase. In this case, you're guilty until proven innocent. I think that is a very dangerous standard for our country."
IT IS TRUE! No man should be deprived of his life, liberty or the deciding seat on the highest court in the land without DUE PROCESS. THIS SHOULD BE HIS. The right to decide the fates of millions is one a man like him is born with, ONE OF THOSE INALIENABLE RIGHTS, AND IT SHOULD NOT BE TAKEN FROM HIM WITHOUT BEAUTIFUL DUE PROCESS!
NOW HIS WORLD IS FALLING APART! NOW HE IS BEING FORCED TO GO OVER HIS HIGH SCHOOL BEHAVIOR WITH A FINE-TOOTHED COMB! THIS IS NOT FAIR! THIS SCRUTINY! THIS DEMAND TO ACCOUNT! HE DESERVES THIS POWER! GIVE IT TO HIM! STOP ASKING HIM THESE QUESTIONS! STOP TRYING TO SLOW THIS TRAIN DOWN! THIS TRAIN HAD BETTER GET WHERE IT IS GOING, OR SOMETHING BAD WILL HAPPEN!
STOP SAYING THINGS! SHHH! BE QUIET! STOP RESISTING BRETT KAVANAUGH. STOP TRYING TO STOP HIM.
NO, LISTEN! LISTEN!
HE DESERVES THIS!
LISTEN, YOU DON'T DESERVE THIS. AMERICA DOESN'T DESERVE BRETT KAVANAUGH ON THE SUPREME COURT.
IF THIS IS HOW AMERICA IS GOING TO BEHAVE,
IT DOESN'T DESERVE BRETT KAVANAUGH AT ALL!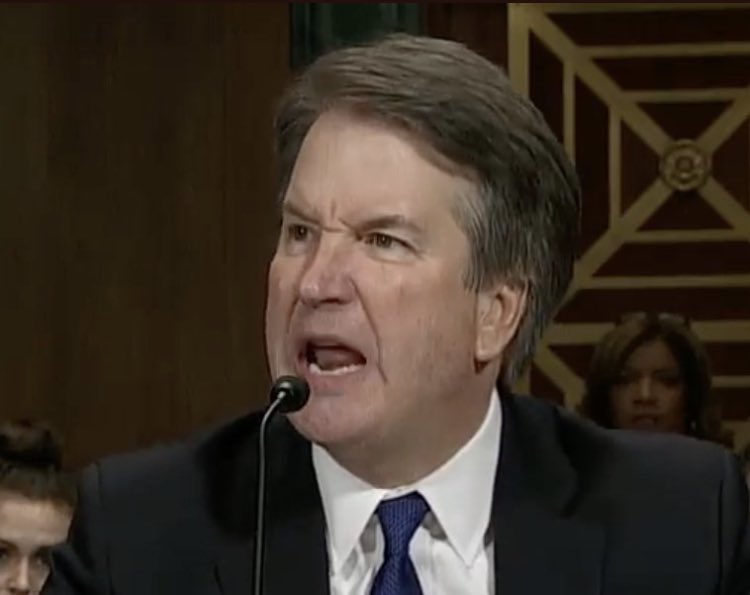 I AM A VIRGIN WITH A CALENDAR!    
courtesy of Noah Garfinkel @NoahGarfinkel