From the New York Times:
So President Trump's impeachment trial poses a unique and particularly onerous challenge for the 100 senators of the 116th Congress: a daily vow of silence that will be in effect beginning at 1 p.m. and for the duration of the proceedings, sometimes long into the night.
Senators will be confined to their desks, forced to stash their cellphones in cubbies and barred from speaking, even in hushed tones, as seven House impeachment managers and Mr. Trump's defense team debate whether the president committed high crimes and misdemeanors.
To remind them, sessions of the trial will begin each afternoon with the Senate sergeant-at-arms uttering a dramatic command that dates to 1868 and the nation's first presidential impeachment trial: "All persons are commanded to keep silence, on pain of imprisonment." (There is no record of a Senate forcing jail time on one of its own.)
Asked about the limitations, Senator James Lankford, Republican of Oklahoma, joked that "all of us are taking bets on Lindsey Graham," the garrulous South Carolina Republican who spent the Clinton trial as an impeachment manager, making the case that the president should be removed from office for lying about an affair with a White House intern.
"That's the only one I really know of that I'm really worried about for six hours," Mr. Lankford said of Mr. Graham.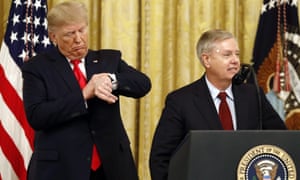 "Isn't it about time Lindsey goes ape shit for me like he did for Kavanaugh?"