Tag Archives:
Ann Coulter
"The only national emergency is that our president is an idiot." —Ann Coulter
From Politico:
"100 miles of border wall in exchange for amnestying millions of illegals. So if we grant citizenship to a BILLION foreigners, maybe we can finally get a full border wall," tweeted conservative media commentator Ann Coulter, who has repeatedly antagonized the president for failing to erect a barrier along the U.S.-Mexico border during his two years in office.
"Trump proposes amnesty. We voted for Trump and got Jeb!" Coulter added, referring to Trump's 2016 GOP primary rival, former Florida Gov. Jeb Bush, who has previously criticized the president's immigration rhetoric.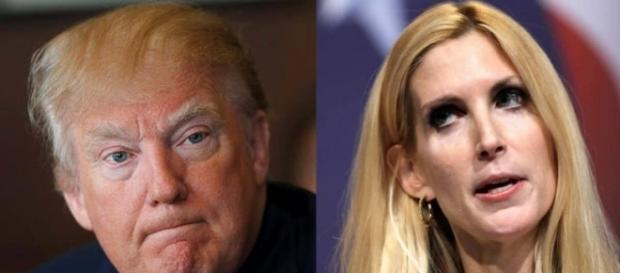 Conservative commentator Ann Coulter says she doesn't think it's a good idea for Republican presidential nominee Donald Trump to soften his stance on immigration.

"I think this is a mistake. It sounds like it's coming from consultants," she said Tuesday night on MSNBC's "Hardball with Chris Matthews," where she questioned why there is now talk about "softening the lies of lawbreakers."

"I've thought he's made other mistakes, and I've given him constructive criticism when I think he makes a mistake. I think this is a mistake."

Coulter said Trump's recent comments about softening "sounded very consultant to me."

"This could be the shortest book tour ever if he's really softening his position on immigration," she said, referring to her newly released book, "In Trump We Trust: E Pluribus Awesome!"